APPSEC Cali 2018 - Women In Security Panel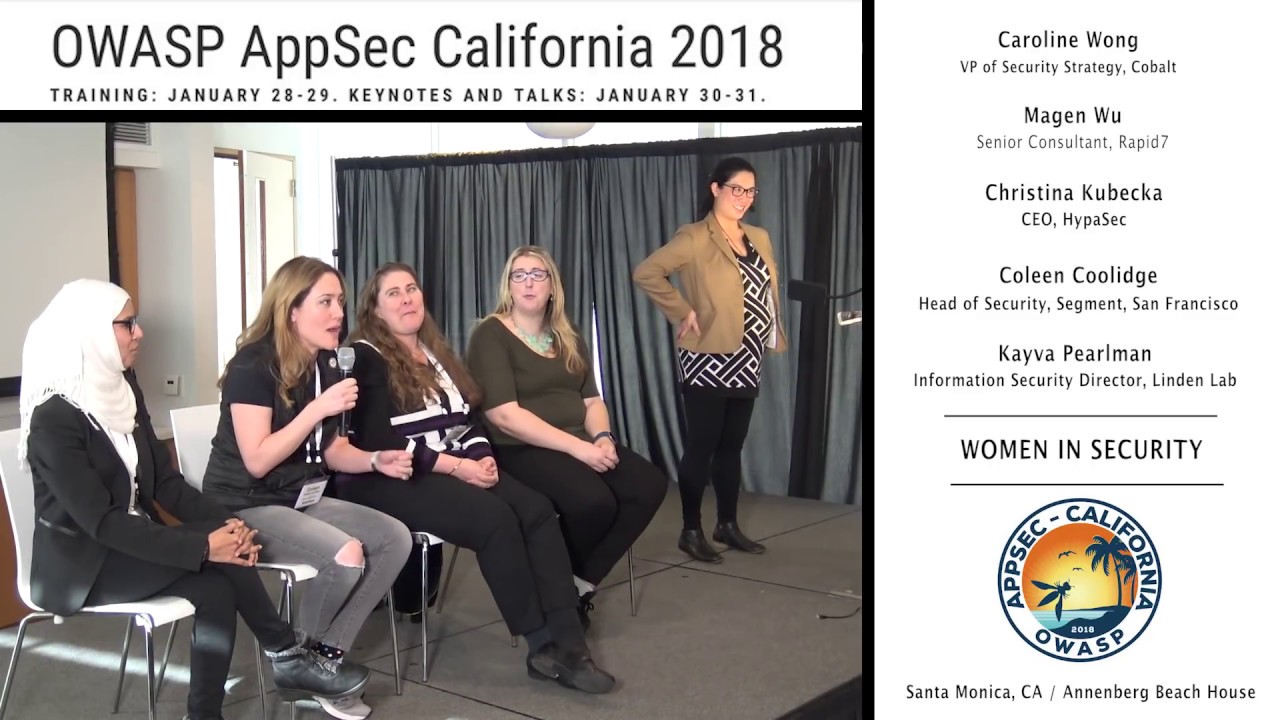 by Coleen Coolidge, Christina Kubecka, Kayva Pearlman, Caroline Wong, and Magen Wu

Coleen Coolidge
Coleen Coolidge is Head of Security at Segment in San Francisco. Previously, she was at Twilio as Sr Director of Trust and Security. She's also served in security-leadership positions at more traditional, enterprise companies like First American Title and CoreLogic in Southern California. Coleen works on advancing the security culture past "just having the infrastructure-people do it" to creating a comprehensive program where everyone in the company participates to improve the company's security posture year over year.

Christina Kubecka
Chris Kubecka, Security Researcher and CEO of HypaSec. Formerly, setting up several security groups for Saudi Aramco's affiliates after the Shamoon 1 attacks. Implementing and leading the Security Operations Centre, Network Operation Centre, Joint International Intelligence Group and EU/UK Privacy Group for Aramco Overseas Company. With more than 20 years of professional experience in the field, her career includes the US Air Force, Space Command, private and public sector. GIAC GPEN certification training & teaches penetration testing on IT, IoT & ICS. Chris has been featured in the media with Viceland News' Cyber Warfare series, Hacking the Infrastructure, CNN, Fox News, and other news outlets. Chris is currently the Executive Secretary on the board of Geeks Without Bounds, and advises and lectures as an expert for several markets and governments.

Kayva Pearlman
Kavya Pearlman is the Information Security Director at Linden Lab; protector of two virtual world economies, Second Life and the latest social VR platform called Sansar.
Prior to Linden Lab, Kavya advised Facebook Information Security Team on mitigating Third Party Security Risks. Kavya graduated from DePaul University, Chicago with a Masters in Network Security and holds a CISM (Certified Information Security Manager) certificate from ISACA. Kavya is also certified PCI-DSS ISA (Internal Security Assessor).


Kavya Grew up in India and came to the United States in 2007. She proudly uses the freedom this country offers, being a Hindu born jewish woman who converted to Islam. Besides Security Kavya's other passions are VR (Virtual Reality) and learning about virtual economies including cryptocurrencies.

Caroline Wong
Caroline's close and practical information security knowledge stems from broad experience as a Cigital consultant, a Symantec product manager, and day-to-day leadership roles at eBay and Zynga. She is a well known thought leader on the topic of security metrics and has been featured at industry conferences including RSA (USA and Europe), OWASP AppSec, and BSides. Caroline was featured as an Influencer in the 2017 Women in IT Security issue of SC Magazine. She received a 2010 Women of Influence Award in the One to Watch category and authored the popular textbook Security Metrics: A Beginner's Guide, published by McGraw-Hill in 2011. Caroline graduated from U.C. Berkeley with a B.S. in Electrical Engineering and Computer Sciences and holds a certificate in Finance and Accounting from Stanford University Graduate School of Business. Caroline Wong is the Vice President of Security Strategy at Cobalt (www.cobalt.io).

Magen Wu
Magen Wu has over 10 years of specialized IT experience, is a Sr. Consultant with Rapid7's Strategic Advisory Service group. In her career, she has consulted with organizations in multiple industries including: state and local government, education, retail, technology, and healthcare. Magen received her Bachelor's degree in IT Management, with a focus on Information Security and is currently enrolled with Southern New Hampshire University, earning a Master's degree in Industrial and Organizational Psychology. Outside of work, Magen spends her time as the senior lead for DEF CON workshops and presenting at several conferences a year.

Managed by the official OWASP Media Project https://www.owasp.org/index.php/OWASP...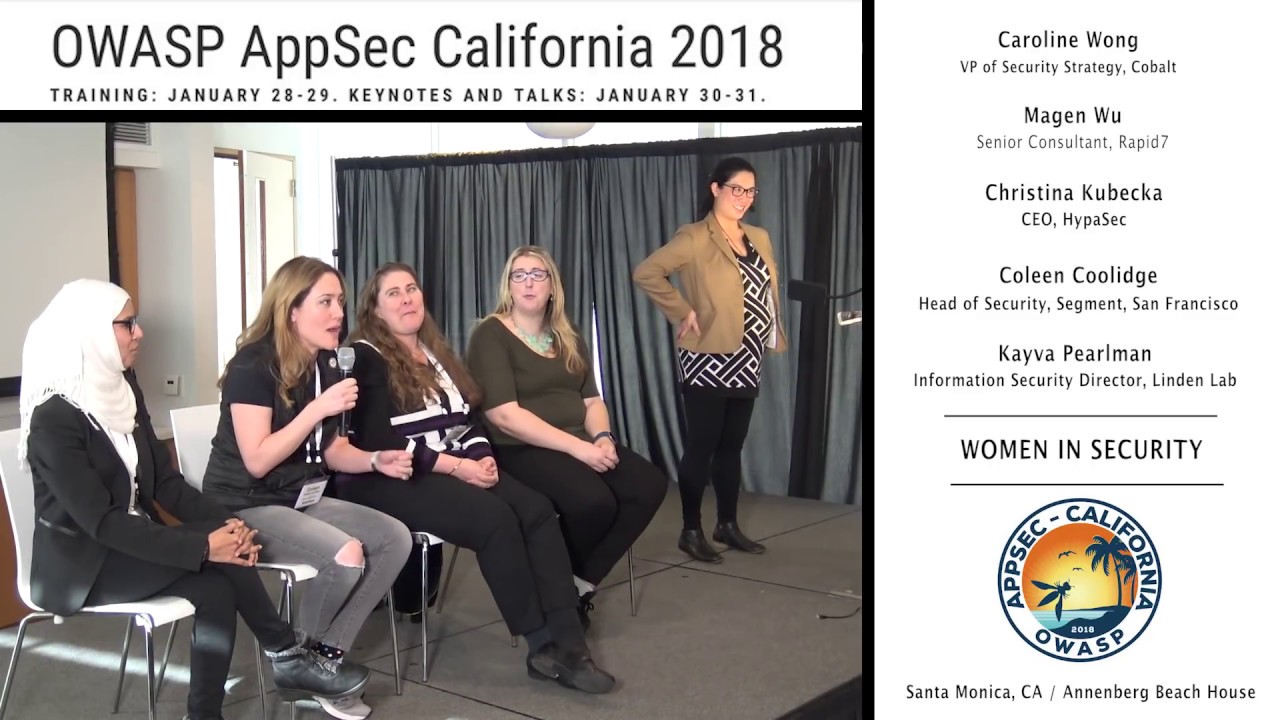 APPSEC Cali 2018 - Women In Security Panel
Reviewed by
Unknown
on
March 19, 2018
Rating: